Libya rebels lose territory as battle for Tripoli deepens
(Read article summary)
A quick rebel victory is fading into uncertainty as Qaddafi gunmen are fighting back and Muammar Qaddafi's politically powerful son Saif al-Islam reemerges.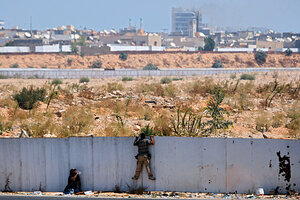 Sergey Ponomarev/AP
• A daily summary of global reports on security issues.
Two days after rebels exulted in their swift takeover of Tripoli, signaling the endgame for Libyan leader Muammar Qaddafi, the capital has become a stage for a potentially protracted battle between rebels and loyalists.
The rebels expected a decisive victory after entering the city easily this weekend, Bloomberg reports, but they are still locked in battle with Mr. Qaddafi's fighters inside and outside Tripoli.
The Wall Street Journal reports that the rebels pulled back from much of the territory in the city that they took earlier in the week and seemed to be in control of only a "slice of land leading from the western edge to near the city center." Qaddafi gunmen have staked out several neighborhoods and Green Square, where rebel supporters celebrated Sunday night, is now a "no-man's land."
The scenes in Tripoli undermined early impressions that forces loyal to Col. Gadhafi, who has ruled the oil-rich Mediterranean country for nearly 42 years, had been all but neutralized. Instead, the leader remains unaccounted for as fighting continues. The unease suggested instead that the regime's end, while broadly expected, may bring more bloodshed, this time in a densely populated urban theater.
---