Qaddafi urges resistance as Libyan rebels make Tripoli their own
(Read article summary)
The rebel government is preparing to move many of its ministries from Benghazi to Tripoli, even as Muammar Qaddafi's regime vowed to fight for years.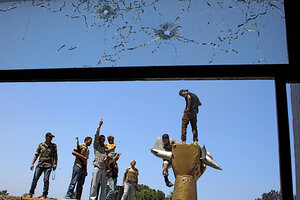 Sergey Ponomarev/AP
• A daily summary of global reports on security issues.
Libyan rebels' seizure yesterday of the symbolic Bab al-Aziziya compound, the heart of Col. Muammar Qaddafi's regime, has solidified their momentum and bolstered Libyans' confidence that the 42-year leader's reign is over.
But while the eccentric Libyan leader may be finished, he has not yet been found. So long as he remains at large, he remains a potentially destabilizing factor, the Associated Press reports. The concern is that it could take months to find Colonel Qaddafi, which would jeopardize the country's stability during the transition period and perhaps embolden his remaining supporters to strike back.
"It is too early to say that the battle of Tripoli is over," says rebel government leader Mustafa Abdul-Jalil. "That won't happen until Qaddafi and his sons are captured."
In a radio address yesterday, Qaddafi chastised loyalists for letting the rebels "wreak havoc" on Tripoli and said he had left Bab al-Aziziya – a military and residential compound from which Qaddafi, his family, and his closest advisers had ruled the country. His government vowed to fight on, even if it takes years to defeat the uprising that began six months ago.
"We will turn Libya into a volcano of lava and fire under the feet of the invaders and their treacherous agents," said government spokesman Moussa Ibrahim.
---