Eid ul-Fitr marks end of violent Ramadan in Syria
(Read article summary)
Eid ul-Fitr is normally a festive time, but Syrian citizens say seven were killed today by security forces. The regime faces EU oil sanctions by week's end and weakening support at home.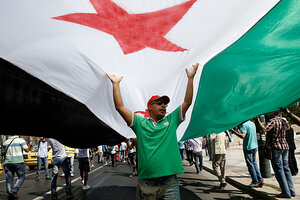 John Kolesidis/Reuters
• A daily summary of global reports on security issues.
Eid ul-Fitr, the holiday that marks the end of Ramadan, may be a festive time for most Muslims. But Syria's regime has little to celebrate, with President Bashar al-Assad losing support from two key constituencies as Europe moves to finalize oil sanctions by the end of this week.
Today hundreds came out to protest in Aleppo, Syria's second-largest city and a bastion of support for Mr. Assad that has been largely silent in the five-month uprising – until now.
The tacit support of Aleppo, Damascus, and Syria's business community have often been cited in recent months as preventing the collapse of Assad's regime.
Now, with the uprising's death toll ticking past 2,200 and the European Union expected to impose oil sanctions in a matter of days – the latest in a string of Western embargoes – businessmen are feeling increasingly uneasy in Assad's Syria, according to Reuters. Regional trade has fallen by 30 to 40 percent, and investment and tourism revenue has dropped precipitously.
A Damascene industrialist who exports dairy products to Middle East markets said businessmen felt the security crackdown, in which 2,200 people have been killed, was hurting their interests.
---