Qaddafi regime rejects Libyan rebels' ultimatum to surrender
(Read article summary)
NATO is still hoping for a negotiated settlement with Libyan rebels to avoid more fighting, particularly in Qaddafi's hometown of Sirte. The deadline expires Saturday.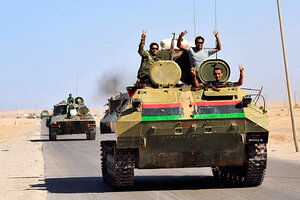 Esam Al-Fetori/Reuters
• A daily summary of global reports on security issues.
Libya's transitional rebel leadership has issued an ultimatum to Muammar Qaddafi's last remaining stalwarts: Surrender by Saturday, or face a final military assault on the towns still loyal to Qaddafi.
A week after routing Qaddafi loyalists from Tripoli, the rebels appear anxious to bring a decisive end to the six-month conflict and firmly establish their sovereignty before a power vacuum can emerge, according to The New York Times.
"Sometimes to avoid bloodshed you must shed blood, and the faster we do this the less blood we will shed," said Ali Tarhouni, the deputy head of the National Transitional Council.
His comments may have reflected a desire to resolve the awkward halfway status of the rebel leadership, which at the moment bears much of the responsibility of a new government but without the full legitimacy. There have been hints of friction in Tripoli as some brigades of fighters balk at decisions of the transitional rebel leadership, and militia members who came from east and west to invade the capital mark their jurisdictions, block by block, with spray paint.
The two key cities remaining in loyalists' hands are Qaddafi's coastal hometown of Sirte, and the southern town of Sabha. Wide swaths of territory in Libya's desert interior are also believed to be strongly loyalist, given that Qaddafi's wife and three children were able to travel through that area to safety in Algeria earlier this week. [Editor's note: This paragraph has been edited to correctly state who is in control of Sirte and Sabha.]
---