Syrian official's YouTube resignation: was it coerced? (VIDEO)
(Read article summary)
Syrian authorities insist that a high-ranking official was forced by kidnappers to make a resignation video. If the defection is genuine, however, it would add to the Assad regime's increasing isolation.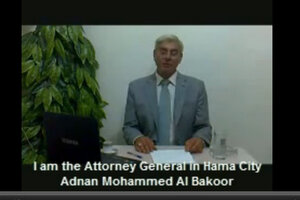 YouTube
• A daily summary of global reports on security issues.
The attorney general of the restive Syrian province of Hama announced his defection from President Bashar al-Assad's regime in a video posted to YouTube on Wednesday.
"I, Judge Adnan Mohammad al-Bakkour, Hama Province Attorney-General, declare that I have resigned in protest of the savage regime's practices against peaceful demonstrators," Mr. Bakhour said in the video, released by activists.
Syrian authorities claim that Bakkour was kidnapped while traveling to work on Monday and that he was forced to produce the video falsely announcing his defection, Reuters reports.
Due to the Assad regime's strenuous efforts to prohibit foreign journalists from operating in Syria during the brutal crackdown of the past few months, no mainstream news sources could yet verify whether Bakhour did in fact intend to resign.
If the video was indeed genuine, however, Bakhour would be the first high-level official to defect, reports Reuters. The move would signal cracks in one of Assad's last pillars of support, and the video comes on the heels of a series of moves by Assad allies to distance themselves from his regime.
---