Turkey says it is prepared for possibility of war with Israel
(Read article summary)
Turkish Prime Minister Erdogan said Monday in Cairo that he is prepared for the worst case scenario with Israel, while Israel scrambles to cover its flanks in a multifront diplomatic crisis.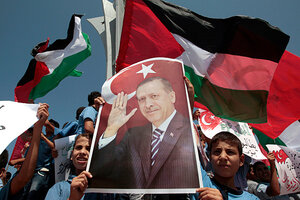 Ismail Zaydah/Reuters
• A daily summary of global reports on security issues.
Amid a diplomatic assault from three directions that has Israel's foreign service reeling, Turkish Prime Minister Recep Tayyip Erdogan said that Turkey is prepared for a military confrontation with Israel should the diplomatic row between the two countries escalate.
In an interview Monday with Egyptian newspaper Al Shuruq, Mr. Erdogan said the "Turkish Navy is prepared for every scenario – even the worst one."
Israeli-Turkish ties have been nearly severed in recent weeks. That's not the only challenge. Over the weekend, angry protesters breached the Israeli embassy in Cairo, and there was rapid movement toward a Palestinian declaration of statehood when the United Nations meets later this month. The trio of challenges has put Israel at a tough diplomatic intersection, The Christian Science Monitor reports.
---