Yemen sees resurgence of violence from militants, tribal fighters
(Read article summary)
Clashes broke out in southern Yemen, where government forces are battling militants they say belong to the local Al Qaeda affiliate. In the capital, they're engaged with tribal fighters.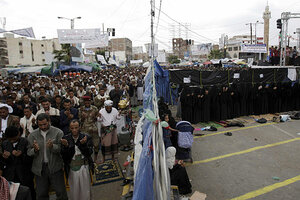 Hani Mohammed/AP
• A daily summary of global reports on security issues.
Two days after the United Nations warned that Yemen was at risk of descending into civil war, clashes broke out between militants and government forces in southern Yemen and between tribal fighters and government forces in the capital, Sanaa.
Negotiations were under way in the south, after bursts of fierce fighting last spring, but they are now deadlocked, Associated Press reports.
The West has long been concerned that a destabilization of Yemen, the Arab world's poorest country, could give one of Al Qaeda's burgeoning affiliates virtually free rein to plot attacks against Western targets. But amid a stalled uprising against Yemeni President Ali Abdullah Saleh, Al Qaeda in the Arabian Peninsula (AQAP) is not the only militant group stirring up trouble for the regime.
---