Iran releases US hikers on eve of Ahmadinejad's UN speech
(Read article summary)
Iran today set free two US hikers accused of espionage whose release had been stalled by a rift between President Ahmadinejad and the Iranian judiciary.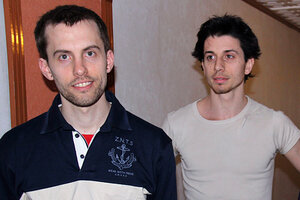 Press TV/AP/File
• A daily summary of global reports on security issues.
Iran today set free two American hikers charged with espionage, CNN reports, ending a two-year battle for their release that was repeatedly thwarted by internal Iranian rifts.
Iranian President Mahmoud Ahmadinejad announced their impending release last week, but his disclosure was quickly rebuffed by the judiciary, with whom he has been locked in a power struggle for months. The clerics said Mr. Ahmadinejad did not have the authority to make such a decision. At the time, the judiciary said that it was still examining pleas by the hikers' lawyer.
Shane Bauer and Josh Fattal were picked up with their traveling companion Sarah Shourd along the Iran-Iraq border in July 2009. Ms. Shourd was released on bail for "humanitarian" reasons a year ago, but all three were charged last month with espionage and illegal entry and sentenced to eight years in prison.
---