Saleh returns to Yemen at tensest time in months
(Read article summary)
Yemen President Ali Abdullah Saleh returned to Yemen today after months of recuperating in Saudi Arabia. Whether his return will prolong or bring to an end the country's instability is unclear.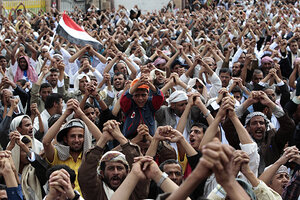 Ahmed Jadallah/Reurters
• A daily summary of global reports on security issues.
Yemen President Ali Abdullah Saleh returned to Sanaa today after more than three months away, and in the midst of the country's most violent week since June.
More than 100 people have died in the capital since Sunday, and many believe the fighting will intensify now that Mr. Saleh has returned, despite his immediate call for a ceasefire. Some in Yemen even warn that Saleh's return will tip the country into civil war – a possibility it's been facing for a week now.
Clashes between government troops and security forces and defected soldiers have raged for days. Tribal fighters joined in against government forces on Thursday, according to The New York Times, bringing the situation closer to where it was in June, when confused, fierce fighting in the capital also had the country on the brink of civil war. Saleh was severely wounded in June's fighting and left for Saudi Arabia to recover.
His return is "like gasoline on a raging fire," writes Gregory Johnsen, a former Fulbright fellow in Yemen.
Saleh's return comes at the worst possible moment for the country. Fighting has recently broken out between army units loyal to him and his family and those on the side of the uprising, while tribes backing each side have also recently begun fighting again in different parts of Sanaa.
---