Syrian troops force insurgents to retreat from key town of Rastan
(Read article summary)
In a blow to dissidents, Syrian forces loyal to the regime of President Bashar al-Assad regained control of the central town of Rastan after military defectors and insurgents took over the city weeks ago.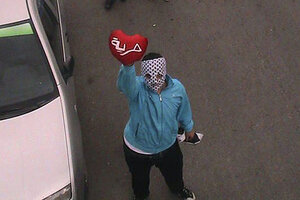 Homs Quarters Union/AP
• A daily summary of global reports on security issues.
Syrian forces overpowered military defectors fighting against the regime in the central town of Rastan, moving into and controlling the city after five days of fighting.
The development is a blow to Syrian dissidents who have recently turned to force in their struggle against the Syrian regime after nearly seven months of peaceful protests were met repeatedly with violence by the government. More than 2,700 people have so far been killed, according to the United Nations.
The fledgling armed movement was bolstered by defections from the Syrian army, and in Rastan, protesters and armed insurgent forces had controlled the city for weeks. But the Washington Post reports that Syrian forces regained control of the city Saturday.
The fighting began with a government assault Tuesday, and activists said 250 tanks entered the city Friday, reports the Post. Residents stayed in their homes because of the heavy fighting, and phone lines to Rastan were cut Saturday.
The military defectors who joined the protesters announced their withdrawal from Rastan Friday night in a statement, reports Agence France-Presse. "Because of major reinforcements and the weapons used in Rastan by [President Bashar] al-Assad's gangs... we have decided to withdraw in order to better wage the struggle for liberty," the statement said, according to AFP.
'Most prolonged' fighting yet
Reuters, which calls the fight to dislodge Rastan from opposition control the "most prolonged fighting between the army and insurgents" since the uprising began, reports that activists say 130 people have been killed since the fighting began in Rastan, including armed insurgents and unarmed civilians. Activists also said that government forces have taken over hospitals and clinics in the city, and have used schools to house hundreds of detained civilians.
---