Karzai visits rival India amid tensions with Pakistan
(Read article summary)
Afghan President Karzai arrives in India today to discuss economic and security partnerships amid a recent volley of Afghan accusations against Pakistan, India's longtime foe.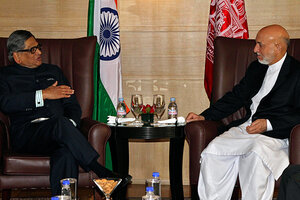 B Mathur/Reuters
• A daily summary of global reports on security issues.
Afghan President Hamid Karzai arrived in India today to discuss security and economic partnerships with Indian Prime Minister Manmohan Singh. India remains Pakistan's most bitter rival, and growing ties between Afghanistan and India are likely to raise Pakistan's hackles.
The visit has been planned for months, according to Reuters, but the timing is still touchy, coming amid deteriorating Afghan relations with Pakistan brought on by suspicion of Pakistani involvement in recent terrorist attacks in Afghanistan.
Mr. Karzai and several senior Afghan officials have publicly linked Pakistan to last month's assassination of Burhanuddin Rabbani, the government's chief negotiator with the Taliban. Karzai said he believes the assassin was Pakistani and the attack was planned in the country.
Both Afghanistan and the United States, which are intensively preparing for a US handover of security responsibilities, have recently increased their pressure on Pakistan to crack down on militant groups using Pakistan as a launch pad for attacks in Afghanistan.
---