Karzai says Afghan-Indian security agreement no threat to Pakistan (video)
(Read article summary)
Afghan President Hamid Karzai signed a security agreement with India this week that alarmed Pakistan. He insists it's no threat to Pakistan.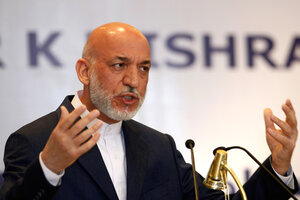 Gurinder Osan/AP
• A daily summary of global reports on security issues.
Afghan President Hamid Karzai is trying to reassure Pakistan that a security agreement signed Tuesday with India, Pakistan's historic foe, is not meant to lay the groundwork for a regional alliance against Pakistan.
"Pakistan is our twin brother, India is a great friend. The agreement we signed with our friend will not affect our brother," Mr. Karzai said in New Delhi, according to Reuters. "This strategic partnership ... is not directed against any country ... this strategic partnership is to support Afghanistan."
India, already one of Afghanistan's biggest donors, agreed Tuesday to work together more closely on counterterrorism efforts and to help Afghanistan train its police and military. The formal agreement may alarm Pakistan, which worries that India is trying to gain leverage in Afghanistan in order to form an Indian-Afghan alliance against Pakistan.
Mr. Karzai arrived in India earlier this week with Afghan-Pakistani relations at a nadir after he and other Afghan officials placed blame on Pakistan for recent terrorist attacks in Afghanistan. Reuters reports that Pakistan has used the Haqqani network, a militant group that launches attacks in Afghanistan from Pakistani bases, to negate Indian influence in Afghanistan. Assumed Pakistani support for the Haqqani network has been the focus of recent Afghan ire toward Pakistan.
---