Libyan rebels' 'final assault' on Qaddafi's hometown of Sirte (VIDEO)
(Read article summary)
Libyan rebels have captured new areas of the strategic coastal city, one of the last strongholds of former leader Col. Muammar Qaddafi.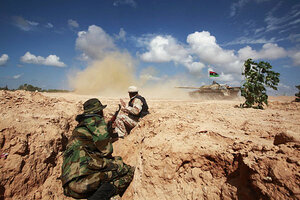 Asmaa Waguih/Reuters
• A daily summary of global reports on security issues.
Libya's revolutionary fighters made progress in the battle for Sirte on Sunday, capturing new territory in the city that is one of the final holdouts of loyalists to former leader Muammar Qaddafi.
The fighters loyal to Libya's new National Transitional Council (NTC) launched what they said would be the final assault on Sirte Friday, more than six weeks after the capital, Tripoli, fell to pro-NTC fighters, and more than a month after they turned the focus to Qaddafi's hometown.
The city sits on Libya's coast, and is strategically important for anti-Qaddafi forces because it has divided their forces between east and west. But capturing the city is also key politically, because NTC leaders have pledged not to start the timeline to elections and transition to elected government until it has come under their control.
Revolutionary forces say they took control Sunday morning of Sirte's university, where snipers from Qaddafi's forces had been using tall buildings to fire on them, reports Agence France-Presse.
Reports conflicted on the nearby Ouagadougou conference center, a complex near the center of the city that the pro-Qaddafi forces have been using as a base. AFP reports that fighting is ongoing there.
The Associated Press reports that a spokesman for revolutionary fighters attacking Sirte from the east has claimed control of the conference center, but said the pro-Qaddafi fighters were fighting back from houses behind the complex, so revolutionary forces are staying back and pounding the complex with artillery before they move in. Meanwhile, a commander in Tripoli told the AP that revolutionary forces are in full control of the center.
---