Iranian plot: International media dig for an explanation
(Read article summary)
A day after the US said it foiled an Iranian plot against the Saudi ambassador to the US, international media were still casting around for a logical explanation of the alleged plot.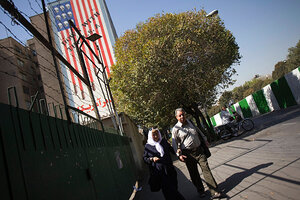 Morteza Nikoubazl/Reuters
• A daily summary of global reports on security issues.
The day after the United States disclosed that it had foiled an Iranian plot to assassinate Saudi Arabia's ambassador to the US, foreign media seemed baffled by the fantastic circumstances of the plot, and reflected concern that the incident could spark another confrontation in the region.
"Whoever was behind the Washington plot was ready to start a war in the Middle East," the Guardian reports. "The region is already on the brink of conflict over Iran's nuclear program, with Israel increasingly twitchy over the progress Tehran is making towards a capacity to make nuclear weapons."
The Guardian article ran through the possible explanations for the plot, then punched holes in each of them. Like US media, the Guardian seemed unable to find an explanation that made sense.
The US accuses the Quds Force (QF), the external operations wing of Iran's Revolutionary Guard, of being behind the plot. Given the hierarchy of the Iranian regime, such a huge undertaking would have required a direct order from the supreme leader, Ayatollah Ali Khamenei, who personally controls the QF.
---