Yemen forces kill protesters on second straight day
(Read article summary)
Yemen security forces killed at least four protesters Sunday after killing 12 the day before. The demonstrators are becoming increasingly bold in their opposition to President Ali Abdullah Saleh.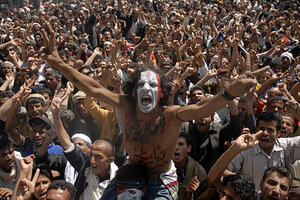 Mohamed al-Sayaghi/Reuters
• A daily summary of global reports on security issues.
Yemeni security forces fired on crowds of demonstrators in the capital Sunday, killing at least four people just one day after another attack on a mass demonstration killed 12 people.
The protesters are calling for President Ali Abdullah Saleh to step down.
Nine months after the protest movement began, the situation is intensifying. President Saleh made a surprise return last month from Saudi Arabia, where he received medical treatment for wounds sustained in an attack, and has continued to refuse to step down.
The Associated Press reports that witnesses saw rooftop snipers shoot down on crowds numbering in the tens of thousands. At least 37 people were also wounded.
The Republican Guard, led by Saleh's son, also fought with troops loyal to Ali Mohsen Al Ahmar, an army general who defected to the opposition in March. The clashes took place near Change Square, where protesters have camped for months, reports the AP.
In the southern city of Taiz, security forces also attacked a protest, killing one person and wounding seven others, according to the AP.
---