On Libya visit, Clinton urges transitional government to bring militias under control
(Read article summary)
The armed militias and loose weapons pose a significant threat to Libya as it tries to build a stable democratic government, Secretary of State Clinton said Tuesday.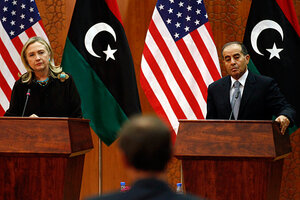 Kevin Lamarque/Reuters
US Secretary of State Hillary Clinton came to Libya Tuesday bearing promises of financial and logistical assistance to the transitional government. She also urged it to get control of armed militias and loose weapons as the country's civil war winds down.
Many of the militias who fought alongside rebel forces against the Qaddafi regime's forces and loyalist fighters have not yet been brought under the auspices of the transitional government. Secretary Clinton met with the National Transitional Council (NTC) on Tuesday and told them it was "essential" to gain control over the militias, the Associated Press reports. Untethered militias were blamed in the death this summer of Abdul Fatah Younis, who defected from Muammar Qaddafi's regime and became the commander of rebel forces.
Back in July, Monitor reporter Dan Murphy wrote of Mr. Younis's death, "What really happened? It may be days before we have a clear picture, if then. But whatever happened here, there have been emerging splits in rebel ranks, and the likelihood that there could be a 'war after the war' is looking greater."
Uncontrolled, the militias could encourage an insurgency against the new government, according to the AP. The Washington Post reports that parts of Tripoli are still controlled by various rival militias who have resisted calls to disarm.
---