Libya to NATO: Stay until the end of the year
(Read article summary)
Although NATO seems poised to bring its Libya mission to an end, the transitional government has asked it to remain through the end of 2011 to help ensure security.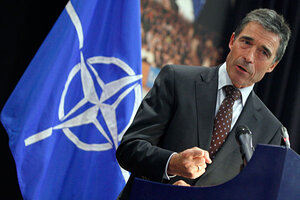 Virginia Mayo/AP
• A daily summary of global reports on security issues.
Two days before NATO makes a decision on whether to wrap up its Libya mission, interim leader Mustapha Abdul Jalil has urged NATO to stay through the end of the year to help ensure to help ensure that Qaddafi supporters do not leave Libya to stir up trouble from nearby countries.
With Qaddafi dead, and Libya's liberation confirmed as of this past weekend, the informal benchmarks for ending NATO's mission have been reached. Last Friday, NATO members made a preliminary decision to end the Libya mission on Oct. 31, and on Tuesday, the NATO commander said that he believed the National Transitional Council (NTC) could handle any security threats, Reuters reports.
However, the NTC seems keen to have the military alliance stay on, Australian Broadcasting Corporation reports.
"We hope (NATO) will continue its campaign until at least the end of this year to serve us and neighbouring countries," Mr. Jalil, head of Libya's National Transitional Council (NTC), told the conference.
---