NATO Libya mission will end on Oct. 31
(Read article summary)
NATO voted today to end its Libya mission Oct. 31, despite a request from Libya's interim leaders to stay through December. Some NATO members may still help in an individual capacity, however.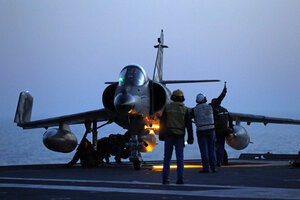 Benoit Tessier/Reuters
• A daily summary of global reports on security issues.
NATO voted today to end its Libya mission on Oct. 31, although some members of the North Atlantic Treaty Organization may opt to continue providing assistance on an individual basis. But NATO Secretary General Anders Fogh Rasmussen said he didn't expect the military alliance itself to play a large role in post-war Libya, aside from potentially assisting with reform of its security sector, according to Reuters.
The vote comes a day after the United Nations voted to end its authorization for the NATO mission. Libya's National Transitional Council had requested that NATO stay through the year and delay making its decision to leave until the NTC had assessed whether it would need NATO's help securing its borders, but the alliance went ahead with today's vote nevertheless.
NATO officials said that member states could end up leaving behind some warships in order to enforce the arms embargo, which has been loosened so that the NTC can begin building up its defense arsenal, but it has not been entirely lifted, Reuters reports. Qatar's top general also said earlier this week that it may head a new alliance to provide support for Libya after NATO's departure. The alliance would likely include some current NATO members.
---