Nigeria: Boko Haram's deadly attacks show Islamists' growing reach
(Read article summary)
Nigeria's Boko Haram militants launched bombings and gun attacks that killed scores on Friday. On Sunday, they killed a police inspector, according to reports.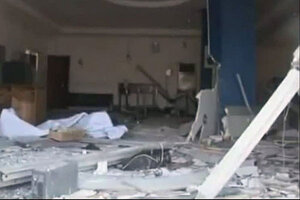 Nigerian Television Authority/AP
• A daily summary of global reports on security issues.
Nigeria's radical Islamist group Boko Haram killed a police inspector Sunday, continuing a wave of violence a little over a day after the militants killed more than 69 people in a string of bombings and gun attacks in northeastern Nigeria.
The attacks highlight the increasing reach and escalating violence of Boko Haram, whose aim is to spread strict Islamic law within Africa's most populous country, and dampens hopes of a negotiated end to the violence.
In what may have been its deadliest day of attacks Friday, Boko Haram bombed police stations, churches, a bank, and an army base in and around Damaturu, the capital of the northeastern state of Yobe. Members of the group then engaged security forces in gunbattles that lasted for hours.
The Associated Press reports that Boko Haram members shot to death a police inspector Sunday in the group's spiritual home, the city of Maiduguri. Gunmen stopped his car as he was driving to a mosque to pray on the Muslim holiday of Eid Al Adha, which began Sunday. Local police commander Simeon Medenda acknowledged that the police have not been able to stop the group. "Our men who live in the midst of the Boko Haram are not safe," he told the AP.
Trail of destruction
The UN Security Council Saturday called Friday's attacks "criminal and unjustifiable." While AP reported that at least 69 people were killed in the Friday attacks, Agence France-Presse, reporting from Damaturu, reports that the death toll was at least 150, with 100 more people wounded.
Damaturu residents gathered for prayers marking the beginning of the Muslim feast amid high security Sunday, as the Boko Haram spokesman warned of more attacks, reports AFP.
---