Syria should be suspended from Arab League: Human rights report
(Read article summary)
Human Rights Watch has accused Syria of crimes against humanity and called on the Arab League to suspend Syria's membership when it meets tomorrow in Cairo.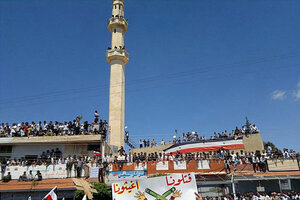 Reuters
The Syrian government has committed "crimes against humanity" as forces loyal to President Bashar al-Assad have sought to quell the uprising of opposition groups in the area of Homs, according to a report by the Human Rights Watch released today.
The authors of the report called on the Arab League, scheduled to meet in Cairo on Saturday, to suspend Syria's membership and urge the United Nations Security Council to enact an arms embargo and sanctions.
Although the Syrian government has blamed armed gangs for fomenting the country's unrest, saying they have killed hundreds of soldiers and police, the Human Rights Watch report found that there is likely widespread government-sponsored violence. HRW drew on interviews with 110 victims and eyewitnesses. Foreign journalists are banned from the country so many reports are difficult to independently verify.
Homs – both the city and the governorate by the same name – has been one of the main centers for opposition against the Assad government. The BBC reports that the situation became more armed and violent as government forces began defecting to the opposition. Between mid-April and August, Syrian forces have killed at least 587 civilians in Homs and a recent UN report found that as many as 3,500 Syrians have been killed since the up rising began.
"Homs is a microcosm of the Syrian government's brutality," said the Human Rights Watch Middle East director Sarah Leah Whitson in an official statement. "The Arab League needs to tell President Assad that violating their agreement has consequences, and that it now supports Security Council action to end the carnage."
---