Syria wants Arab League crisis summit after Assad supporters attack embassies
(Read article summary)
The call comes one day after supporters of embattled Syrian President Bashar al-Assad attacked several embassies in response to the Arab League's Saturday decision to suspend Syria.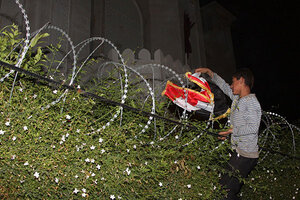 Bassem Tellawi/AP
• A daily summary of global reports on security issues.
Syria called for an emergency Arab summit and invited Arab League officials to visit Sunday, a day after the Arab League voted to suspend Syria's membership effective Wednesday.
After the vote Saturday, thousands of supporters of Syrian President Bashar al-Assad attacked embassies of countries critical of Syria during demonstrations in Damascus and other cities.
In calling for an emergency summit, the regime of Mr. Assad appears to have been at least somewhat rattled by the vote, in which 18 members of the 22-member Arab League voted to suspend Syria's membership.
The move comes eight months after the Syrian regime began a brutal suppression of pro-democracy protests, and less than two weeks after Syria agreed to an Arab League plan to end the violence, which Assad's regime then ignored as it continued killing protesters. The United Nations estimates that more than 3,500 people have been killed by security forces so far, while activists say more than 250 people have been killed so far this month.
The Associated Press reports that in the call for the summit, Syria invited Arab League officials to visit before the suspension takes effect Wednesday. Damascus also said it would allow the Arab officials to bring "any civilian or military observers they deem appropriate to oversee implementation of an Arab League plan for ending the bloodshed," according to the AP.
State TV: 'Preparations for a war on Syria'
The call was issued on state television, where a presenter called the Arab League decision "the beginnings of the internationalization of the crisis and of preparations for a war on Syria," reports The Washington Post.
Yemen and Lebanon were the only countries to vote against the Arab League measure, while Iraq abstained. The Arab League also called for Damascus to withdraw tanks from the streets, release prisoners, and start dialogue with the opposition, and called on Arab countries to withdraw their ambassadors from Damascus and said it would impose sanctions on Syria.
---