Syria refuses Arab League monitors, sanctions loom
(Read article summary)
Syria refused to allow Arab League monitors, designed to tamp down regime attacks on protesters, into the country. Sanctions could follow.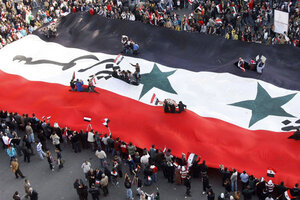 Muzaffar Salman/AP
Sanctions on Syria may be about to get a little tighter.
On Thursday, the Arab League gave Syria a 24 hour deadline to allow observers into the country as a hopeful check on President Bashar al-Assad's bloody crackdown on anti-regime demonstrators. That deadline came and went today, and now the Arab League is scheduled to consider further sanctions on Syria -- a founding member of the group -- tomorrow.
Syria has remained defiant as the Arab League, powerful neighbor Turkey, much of Europe, and the US have moved to isolate the regime. The AP reports that Syrian government news agency SANA called the Arab League a "tool for foreign interference."
Turkey, which appears to be tolerating camps of armed defectors from Assad's regime on the border, warned the country today that the clock is ticking.
CNN reports that Turkish Foreign Minister Ahmet Davutoglu said "Syria has to make a decision... It will either continue this crackdown policy against its people and become isolated more and more, or it will say yes to this well-intentioned Arab League proposal, sign this protocol and observers will monitor the situation on the ground by going to all Syrian cities."
Arab League action against a member state is rare. But with the Arab democracy uprisings of the past year, the regional context has shifted immensely. What's more, evidence is mounting of a horrific toll from state violence in Syria.
---