Afghan endgame: Pakistan boycotts key peace meeting
(Read article summary)
Pakistan announced it would boycott this weekend's Bonn Conference, which aims to chart out a strategy for Afghanistan, in response to a NATO strike.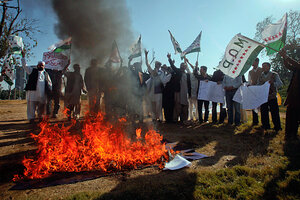 Faisal Mahmood/Reuters
• A daily summary of global reports on security issues.
In response to the NATO strike that killed 24 Pakistani soldiers on Nov. 26, Pakistan says it will boycott an international conference next week. The conference is meant to bring together all the countries who will be critical players in Afghanistan's post-US future. The absence of Pakistan – which shares a long border with Afghanistan and has influence over insurgent groups that operate in the country – is significant.
The predominant fear is that Pakistan will pursue its own interests over international ones in Afghanistan, which could be detrimental to the US and its allies in the region. According to the Associated Press, "Pakistan is perhaps the most important regional country because of it influence on Afghan Taliban factions on its soil."
---