Iran releases protesters detained in British embassy attack
(Read article summary)
Eleven protesters in the British embassy attack were released last night. Britain is rallying Europe to clamp down hard on Iran.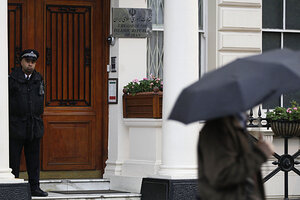 Kirsty Wigglesworth/AP
• A daily summary of global reports on security issues.
Iran heightened suspicion of its complicity in Tuesday's attack on the British embassy in Tehran by releasing 11 of the protesters detained without explanation. British government officials vowed to take further action against Iran and to bring other European countries on board ahead of a European Union meeting today.
Damaging property can carry a prison term for as much as three years in Iran, the Associated Press reports. Yesterday's release of the protesters, who were described as students, could "indicate the 11 have high-level protection from circles within the Iranian establishment," according to the AP. But Iran watchers have contested the storyline of a student-led attack, arguing that at least some of the protesters were members of the
In solidarity with Britain, France, Germany, and the Netherlands have recalled their own ambassadors to Tehran. Foreign Secretary William Hague vowed to push for an intensification of European sanctions when he meets with European Union officials today, the Guardian reports.
---