Arab League gives Syria new deadline, threatens more sanctions
(Read article summary)
The Arab League has set today as a deadline for Syria to accept a plan that would allow international observers into the protest-racked nation.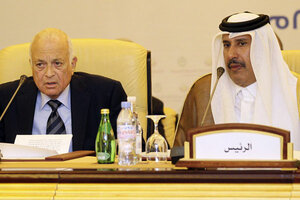 Mohammed Dabbous/Reuters
Seeking to end the violence in Syria, the Arab League has issued a Sunday deadline for the embattled Syrian government to accept a plan that would allow international observers into the country. Forces backing the Syrian regime have been clashing with street protesters for months.
If the government of Syrian President Bashar al-Assad does not accept the plan or ignores it, the League has threatened to impose new sanctions against the country and confirmed existing sanctions put in place after Syrian officials ignored a deadline last weekend.
"We asked the Syrian minister of foreign affairs if the Syrian government will agree to sign tomorrow [Sunday] and we are still waiting for a reply," said Qatari Prime Minister Sheikh Hamad bin Jassim Jabr al-Thani in an article by the BBC. "Aside from the deadline, we are willing to convince them that this is the right way - to sign the protocol and agree on the Arab initiative as it is."
Mr. Assad's government faces increasing isolation as pressure mounts from Arab and other international powers. So far the president has shown little willingness to take serious steps to stop violence in his country and called the Arab League's conditions "impossible."
Last week, the Arab League issued sanctions against Syria that included banning travel for 19 government officials as well as freezing their assets. Additionally it cut off transactions with the Syrian central bank.
Imposing sanctions against Syria represented a drastic step for the Arab League, reports Bloomberg. Since it's creation in 1945, the Arab League had never before imposed sanctions. The sanctions and instability will likely take a hard toll on Syria, whose economic growth is predicted to shrink from 5.5 percent in 2010 to just 1 to 2 percent this year.
---