Israel-Gaza violence: Testing the Arab world's appetite for fresh conflict?
(Read article summary)
Israel-Gaza violence has flared up again, with Israel killing two militants suspected of plotting attacks along the Israel-Egypt border.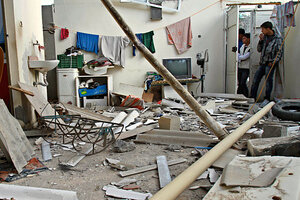 (AP Photo/Adel Hana)
Violence flared along the border of Israel and Gaza as an Israeli air strike on a Hamas training camp killed one civilian and injured 13 others on Friday, say Palestinian medics. The air raid was carried out in response to a retaliatory rocket attack from Gaza after an Israeli bombing yesterday killed two Palestinian militants, who Israel said were plotting attacks on the Israel-Egypt border.
While tit-for-tat violence like this has been a part of the Arab-Israeli conflict for decades, speculation is growing that both sides may be gauging how Arab nations would respond in the event of another war between Gaza and Israel.
Hamas officials, who called the air strike an "unjustified escalation against Gaza," appealed to Egypt to intervene. In an article by the BBC, Hamas spokesman Fawzi Barhoum said the bombing was meant to "test the response of the Arab world ... to a future war against Gaza and the Palestinians in general."
---
Follow Stories Like This
Get the Monitor stories you care about delivered to your inbox.