Ex-dictator Manuel Noriega headed home to Panama
(Read article summary)
Citizens of Panama have mixed feelings on the return of Manuel Noriega, a dictator deposed and imprisoned by the United States.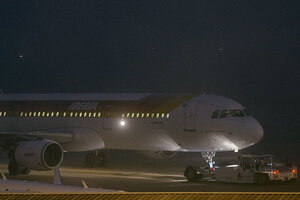 Gonzalo Fuentes/Reuters
After more than 20 years in French and American prisons, Panama's ex-military leader Manuel Noriega will be extradited to his home country to serve three 20-year sentences for crimes committed during his 1983 to 1989 rule.
Mr. Noriega was convicted on drug trafficking and money laundering charges that landed him more than two decades in American and French prisons. With his time served, he now returns to Panama where many locals feel conflicting emotions about his homecoming.
While many Panamanians have expressed a desire to move on from the nation's troubled past, others have called for residents to take to the streets in protest to show their condemnation of the former dictator, reports the BBC. Amid this climate, local government officials have said Noriega's safety is their paramount concern.
While the 77-year-old dictator faces a jail term of up to six decades, it remains unclear how long he'll stay in jail. Panama has a law allowing inmates 70 or older to petition to serve the rest of their sentence under house arrest. Already, there is anger among critics that Noriega will enjoy prison conditions that are too comfortable -- his cell will include a visiting room, furniture, double bed, and a refrigerator among other amenities.
"What has he done to be rewarded with such luxury in jail?" Carmenza Spadafora asked Agence France-Presse. Mrs. Spadafora's brother, an opponent of the ex-ruler, was beheaded in 1985.
---