Syria signs deal to allow Arab League monitors
(Read article summary)
Syria agreed to the monitors today in Cairo, just two days before the Arab League was set to push for action against Syria at the United Nations.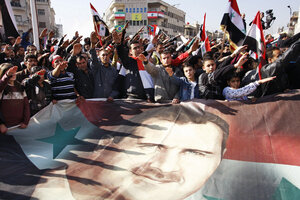 Muzaffar Salman/AP
The Syrian government has signed an agreement to let international monitors into the country, finally accepting the last requirement of an Arab League deal to end the violence wracking Syria.
Syrian Deputy Foreign Minister Faisal Mekdad signed the agreement at the Arab League headquarters in Cairo on Monday, according to both a Reuters witness and an Arab League diplomat speaking on condition of anonymity, reports Haaretz.
The Associated Press writes that Syria likely agreed to Arab League proposal to avoid UN involvement in the country's upheaval, though regime critics argue that it is only a delaying tactic by President Bashar al-Assad while Syrian forces attempt to crush anti-government resistance.
Syria had previously agreed to the plan, which includes withdrawal of its army from Syrian towns and cities, the release of thousands of political prisoners, and opening dialogue with the opposition. But Damascus subsequently balked on terms requiring Syria to open its borders to Arab League monitors, and instead continued to attack protesters. The UN last week estimated that at least 5,000 people have now been killed during the upheaval, which began in March.
---