Christmas church bombings put global spotlight on 'Nigerian Taliban' (VIDEO)
(Read article summary)
The US is pledging to help Nigeria identify those responsible for a series of attacks that left at least 40 people dead on Christmas day.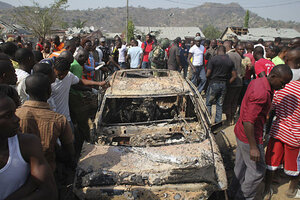 Sunday Aghaeze/AP
Nigerian officials and world leaders offered condemnation on Monday for those responsible for a string of Christmas day bombings across Nigeria that killed at least 40 people and injured dozens. The worst attack occurred at a church near the nation's capital of Abuja.
The attacks were pinned to Boko Haram, a Nigerian Islamic extremist organization that also claimed responsibility for deadly attacks in Nigeria during Christmas Eve last year.
Coming just days after 60 people died in a gun battle between the Islamic insurgents and government forces, the Christmas attack has shone harsh light to mounting tensions in Nigeria and raised concerns that more attacks could be soon to come.
"Nigeria must intensify its efforts in the area of security and guarantee freedom of movement and worship," said the Rev. Isaac Achi, the priest from the bombed church, according to the Los Angeles Times.
---