Unclaimed attack on Islamic school raises tension in Nigeria
(Read article summary)
The attack could be retaliation for Christmas Day attacks on Nigeria's churches, heightening concerns about religious violence between Muslims and Christians.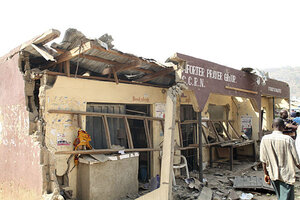 Sunday Aghaeze/AP
• A daily summary of global reports on security issues.
Nigerian President Goodluck Jonathan's government is scrambling to restore calm to the religiously-divided country following Christmas Day attacks on churches. An unclaimed attack Wednesday on an Islamic school has raised concerns that Nigerian Christians may be seeking vigilante justice, and religious leaders have entered the fray as well.
"Retaliation is not the answer, because if you retaliate, at what point will it end? Nigeria must survive as a nation," said government spokesman Owoye Azazi on Wednesday, according to Agence France-Presse.
The leader of the Christian Association of Nigeria, which represents the country's churches, said the Christmas Day attacks on churches that killed more than 40 people amounted to a "declaration of war" on Nigeria's Christians and that while he did not want to encourage violence, "Christians should protect themselves ... in any way they can" because the government was not doing so, the BBC reports.
---