Tales from America's past
A roundup review of four new fictional takes on the 18th and 19th centuries, from the French and Indian War to the trial of Henry Ward Beecher in 1872.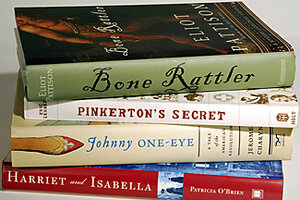 Joanne Ciccarello – staff
The French and Indian War, which swept through the colonies in the mid-18th century, usually gets only a couple pages in high school textbooks. But in Eliot Pattison's new book, "The Bone Rattler," that partially-forgotten conflict is used as a backdrop for a murder mystery of epic proportions.
And Patterson isn't the only one dispensing dressed-up history lessons. From the Revolutionary War to the Underground Railroad, here's a look at four fresh, fictional resurrections of America's past.
Harriet and Isabella, by Patricia O'Brien (Touchstone)
It would be a juicy scandal today: the most prominent preacher in America accused of adultery with a parishioner. In 1872, the trial of Henry Ward Beecher was a sensation, eaten up with glee by everyone except the traumatized principals. Those included the Beecher siblings, including writer Harriet Beecher Stowe. She and all but one of the Beechers circled the wagons, citing loyalty above all. That outlier, the suffragist Isabella Beecher Hooker, pleaded with Henry to confess and beg forgiveness, and the rest of the family cut her off for her betrayal. In 1887, Henry lies dying and Harriet and Isabella haven't spoken in 15 years. Stowe is the only one generally remembered today, but the Beechers were a family of preachers, abolitionists, writers, and activists, and O'Brien does a fantastic job of showing just how remarkable they were. Henry never quite comes to life the way his sisters do, and occasionally the "do you remembers" seem forced. But overall, the novel is a deeply intelligent and emotionally generous look at a trial that riveted a nation and upended a family. Grade: A-
Johnny One-Eye: A Tale of the American Revolution, by Jerome Charyn (W.W. Norton)
"Johnny One-Eye" and "Johnny Tremain" don't have much in common beyond the Revolutionary War. The hero of the former is a brothel-raised double agent who lost an eye fighting under Benedict Arnold. And valiant little Tremain would run for his life if faced with the precarious, redolent swamp that is wartime New York. To call John Stocking a spy is to give him too much credit. The spying is actually done by the prostitutes Johnny lives with, such as Madame Gertrude, an old flame of George Washington, and Clara, an "octoroon" whom Johnny worships. Johnny primarily exists to meet the players in the Revolutionary War, from "the farmer in chief" to a British general's mistress, all of whom instantly want to make a pet of him. (This is helpful because our lad gets into more trouble than Penelope of "Perils" fame – from being tarred-and-feathered to languishing on a truly vile prison hulk.) Charyn, a well-regarded author of more than 30 novels, is clearly smitten with 18th century New York. I should note that picaresques are not my favorite fictional form, and Charyn's fans will be delighted with the novel's abundantly clever set-pieces. But the plot, which tries to wrap its long arms around 1775 to 1783, gets downright confusing. The burning of New York, Valley Forge, and Yorktown whip by in a handful of pages, and Johnny's loyalties change so capriciously it's hard to remember who he's working for at any given moment. Grade: B-
The Bone Rattler: A Mystery of Colonial America, by Eliot Pattison (Counterpoint)
The French and Indian War (1754-1759) is often passed over by history teachers, in their rush to tackle the Revolution. Here, Edgar-winning writer Eliot Pattison tries to redress that wrong by wrapping history up in a mystery/James Fenimore Cooper tale. Duncan McCallum, exiled lord of a nearly extinct clan, is being transported to the New World on a prison ship to work for the mysterious Ramsey Company. During the voyage, a tutor is murdered, and McCallum is assigned to take over his job and pin the murder on a convenient prisoner. Unwilling to betray a fellow Scot, McCallum is determined to find the real killer – a job that becomes more vital as more murders occur once they hit dry land, and more problematic, since the mystery seems to swirl around tyrannical Lord Ramsey's oldest daughter. Pattison makes some interesting comparisons between the Iroquois and the Scots, and the frontier he evokes is a hazardous one. Taking a page from Cooper's book, Pattison makes his Iroquois so noble, even in the face of gross treachery, they could join Disney's "Pocahontas" in a chorus of "Colors of the Wind." Grade: B-
Pinkerton's Secret, by Eric Lerner (Henry Holt)
Screenwriter Lerner uncovers some fascinating "secrets" about Allan Pinkerton, owner of the first detective agency in the US. Pinkerton was a staunch abolitionist who ran guns to John Brown and whose home served as a station on the Underground Railroad. And in 1860, he and his agents, including his lover Mrs. Warne, foiled a plot to assassinate President Lincoln. While the history is terrific, the characters in "Pinkerton's Secret" feel either anachronistic or thin as a worn-out T-shirt. And Lerner makes the fatal mistake of writing the rescue of Lincoln at two removes: by having Pinkerton quote Warne's journal in his memoir. Also, since this keeps coming up in fictional "memoirs": If your character is writing to their offspring, please do not include detailed descriptions of the parent's sex life. The child does not want to read it. Guaranteed. Grade: C
[Editor's note: The original version misspelled Eliot Pattison's name.]