6 great books about the loss of Lincoln
The laughter rippled across Ford's Theatre as a character on stage let loose with a zinger: "You sockdologizing old man-trap!" John Wilkes Booth knew the audience would guffaw in delight, so that's when he fired his gun at the president of the United States. But people heard the noise anyway: "Pop!" Then there was chaos. An assassination, one of several planned that night in the nation's capital, had succeeded. What happened and why? Six captivating books from the last decade – including the newly released "Bloody Crimes" by the bestselling author of "Manhunt" – fill in the gaps and track Abraham Lincoln's legacy.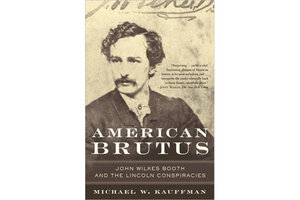 1.

American Brutus: John Wilkes Booth and the Lincoln Conspiracies

You won't see a marker for the grave of Lincoln's assassin if you walk by the cemetery plot of the Booth family in Baltimore. But he's definitely buried there. Just ask the jokesters who put Lincoln-head pennies into the "O's" in the "BOOTH" on the family's memorial monument.

There are plenty of other Booths buried there too, including a sister, who was his eternal ally; a mother, to whom he was devoted; and his father, an even more famous actor.

"American Brutus: John Wilkes Booth and the Lincoln Conspiracies," a convincing 2004 book by Michael W. Kauffman, uncovers the swirling emotions that turned a young actor from a "captivating person," "lover of nature" and "gentle poet" into a killer. The book provides insight into Booth's role in one of the most remarkable families in American history.