National Book Award 2010 nominees: one big surprise
The author who was not nominated for a 2010 National Book Award – Jonathan Franzen – is getting at least as much commentary as those who were.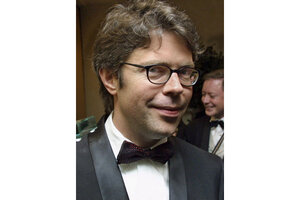 Stuart Ramson
No Jonathan Franzen? That seems to be the first reaction throughout the book world. The National Book Award finalists were announced this morning at the Savannah, Ga., childhood home of Flannery O'Connor, and there was no mention of Franzen's bestselling novel "Freedom."
But there was a fiction nomination for Peter Carey's "Parrot and Olivier in America" (which failed last night to snag a Man Booker Prize) and also two nonfiction nominations for Los Angeles Times staffers (Barbara Demick, author of "Nothing to Envy: Ordinary Lives in North Korea," is the paper's Beijing bureau chief and Megan K. Stack, author of "Every Man in This Village Is a Liar: An Education in War," is the Moscow bureau chief.)
Last year's National Book Award winners included Colum McCann in fiction for "Let the Great World Spin,", T. J. Stiles in nonfiction for "The First Tycoon: The Epic Life of Cornelius Vanderbilt," Keith Waldrop in poetry for "Transcendental Studies: A Trilogy," and Phillip Hoose in young people's literature for "Claudette Colvin: Twice Toward Justice."
The 2010 National Book Award winners will be announced at a ceremony in New York on Nov. 17.
Here's the complete list of finalists:
Fiction:
Peter Carey, "Parrot and Olivier in America"
Jaimy Gordon,"Lord of Misrule"
Nicole Krauss, "Great House"
Lionel Shriver, "So Much for That"
Karen Tei Yamashita, "I Hotel"
Nonfiction:
Barbara Demick, "Nothing to Envy: Ordinary Lives in North Korea"
John W. Dower, "Cultures of War: Pearl Harbor, Hiroshima, 9-11, Iraq"
Patti Smith, "Just Kids"
Justin Spring, "Secret Historian: The Life and Times of Samuel Steward"
Megan K. Stack, "Every Man in This Village Is a Liar: An Education in War"
Poetry:
Kathleen Graber, "The Eternal City"
Terrance Hayes, "Lighthead"
James Richardson, "By the Numbers"
C.D. Wright, "One with Others"
Monica Youn, "Ignatz"
Young People's Literature:
Paolo Bacigalupi, "Ship Breaker"
Kathryn Erskine, "Mockingbird"
Laura McNeal, "Dark Water"
Walter Dean Myers, "Lockdown"
Rita Williams-Garcia, "One Crazy Summer"
Marjorie Kehe is the Monitor's book editor.