Sarah Palin's heroes – and antiheroes
Sarah Palin's new book, "America By Heart: Reflections on Family, Faith, and Flag," includes numerous references to Americans – and occasionally non-Americans – of whom she approves. Many of Palin's choices are not surprising (Ronald Reagan, Margaret Thatcher, Thomas Jefferson) while others (Judd Aptow, Simon Cowell, Elvis Presley) are. Often, Palin praises one figure by disparaging another. Taken together, her likes and dislikes offer a quick recap of her worldview.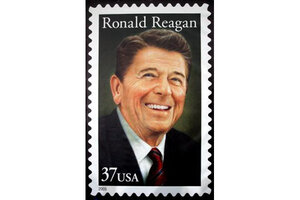 1.

Ronald Reagan vs. Barack Obama

No big surprise here. Early in "America By Heart," Palin praises Ronald Reagan (one of the book's clear heroes) for his vision of the United States as "a shining city on a hill." Barack Obama, she says, "doesn't believe in American exceptionalism at all."