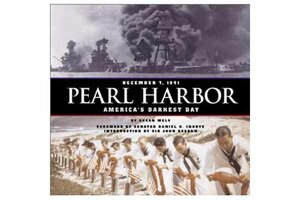 3.

Pearl Harbor: America's Darkest Day

Pearl Harbor: America's Darkest Day by Susan Wels pulls together full-color battle maps and diagrams, eyewitness accounts, previously (as of 2001) unpublished artifacts, and more than 200 photographs from American and Japanese sources to tell the full story – set in historic context – of the attack on Pearl Harbor. This Time-Life book, launched to coincide with the 60th anniversary of the attack, includes an introduction by military historian Sir John Keegan and a foreword by Sen. Daniel K. Inouye, who witnessed the bombing as a 17-year-old.

To buy this book from Monitor affiliate Amazon.com, click here.