6 books to beat the winter blues
The groundhog may have seen his shadow yesterday, but for those of us enduring a blizzard a week spring still seems a distant prospect. So instead of fighting winter, why not embrace it? Here are six inspiring reads to remind all of us of the awesome beauty – and perilous power – of the season.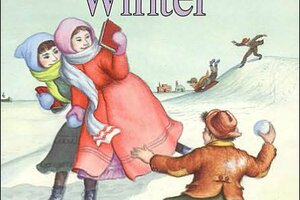 1.

"The Long Winter," by Laura Ingalls Wilder

If any book will give readers a sense of perspective, it's Laura Ingalls Wilder's The Long Winter, the sixth volume in her Little House series. Many Wilder fans consider this semi-autobiographical novel to be the most exciting of her writings – for ample reason. In October, 1880, Laura and her family wake to an early blizzard howling outside their isolated South Dakota shanty. During the seven months of near constant snow and bitter cold that follows, the family subsists on potatoes and coarse bread before running out of food altogether. The true survival story will leave readers grateful for modern amenities.