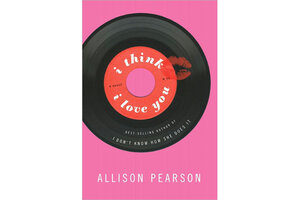 2.

"I Think I Love You," by Allison Pearson

Music also inspired Allison Pearson's second novel, I Think I Love You (Knopf, 338 pp.), but in this case, it's the Partridge Family instead of Puccini. Before Bieber fever, teenage girls swooned over David Cassidy, he of the bell bottoms and feathered hair, who boasted the biggest fan club in the world. And Petra and her best friend Sharon are his biggest fans. The fact that they live in Wales and not California is but a small geographic obstacle that their deathless devotion will no doubt overcome.

Pearson alternates chapters between Petra, a cello prodigy with a disapproving German mom ("You might say that my mother's whole life was a battle to to keep the vulgar and the ugly at bay. In our town, she had found the perfect enemy"), and Bill Flynn, a recent college grad appalled by his job. You see, he was hired to impersonate Cassidy in the monthly magazine letters Petra and Sharon dissect like they're the Rosetta stone.

"They're like peasants in 1321," Bill tells a coworker at The Essential David Cassidy Magazine. "You give them a bit of dead badger skull and tell them it's the funny bone of the Blessed Virgin Mary and they fall down in a dead faint and give you everything they own, including the cow." Bill, Petra, and Sharon all end up at London's White City for Cassidy's farewell concert in 1974, where 750 girls were injured and one was killed.

The second section open 24 years later, when a now-grown Petra finds out she won a long-ago contest to meet her idol, and sets out (with the good-hearted, daffy Sharon) to claim her prize. Pearson's first novel, "I Don't Know How She Does It," tapped into the zeitgeist of stressed-out working moms, becoming an international bestseller. With its humor and love of music, "I Think I Love You" will remind readers of Nick Hornby (even as he would no doubt shudder at the song choices). Petra's adult problems get short shrift and the ending sticks firmly to the shallows, but "I Think I Love You" warmly and hilariously captures what it's like to be a teenage girl in the grip of puppy love.