10 most frequently challenged books of 2010
Every year at this time the American Library Association compiles its list of "most frequently challenged" library books from the past year. The 2010 list includes some titles carried over from previous years (No. 1 on the list, "And Tango Makes Three," has appeared on the top of the "most challenged" list every year since its 2005 publication) and some new ones (including No. 5, teen bestseller "The Hunger Games" by Suzanne Collins, causing The Washington Post to comment that making the list has become "a virtual rite of passage for young adult sensations.")
Here are the 10 books on the top of the 2010 list.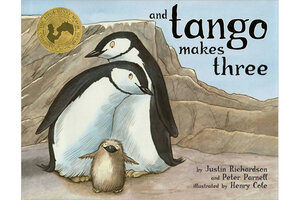 1.

"And Tango Makes Three," by Peter Parnell and Justin Richardson

This true story of two male penguins who hatched an egg and raised a penguin chick in New York's Central Park Zoo has been regularly challenged and/or banned in numerous American libraries and schools ever since its 2005 publication. The reasons listed for the 2010 challenges are "homosexuality, religious viewpoint," and a belief that the book is "unsuited" for young readers.