4 great summer books for middle-grade readers
Once school is out, will your young reader be likely to pick up a book? The answer is yes – if the right title is at hand. Here are four strong summer reading choices for kids from ages 9 up.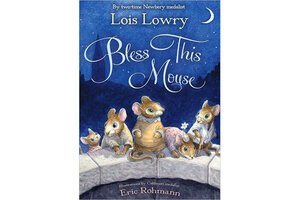 1.

"Bless This Mouse," by Lois Lowry

For readers in the 9-12-year-old zone, what could be better than a new book by double Newbery winner Lois Lowry ("Number the Stars" and "The Giver")? In Bless This Mouse (Houghton Mifflin, 160 pp.), Lowry (along with Caldecott winning illustrator Eric Rohmann) tells the story of Hildegarde, an oh-so-correct church mouse who must save her "people" from their worst fear ("the Great X") even as a pushy rival tries to grab her place as lead mouse. Lowry has created a gentle page-turner, with a sweet cluster of characters at its core.