5 best books of July: Amazon editors' favorite picks
Some of this summer's most interesting books will take you places – all the way from the moon to Korea to the seemingly placid Midwest, and from tales of masked vigilantes to the inside workings of the Church of Scientology. Here are five of the July 2011 titles that are drawing the most enthusiastic thumbs-up from the editors at Amazon.com.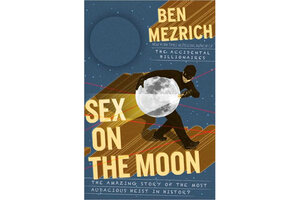 1.

Sex on the Moon: The Amazing Story Behind the Most Audacious Heist in History, by Ben Mezrich

From the writer of the book behind the Oscar- winning movie "The Social Network," comes this viciously funny novel based on the real-life story of Thad Roberts, an astronaut in training who took the idea of giving his girlfriend the moon way, way too far. Cracking security codes, breaking into NASA to steal moon rocks – there's a dash of "Ocean's 11" in this hilarious and thrilling novel.