Nobel Prize in Literature: Winners from the past 10 years
The 2011 winner of the Nobel Prize in Literature, a notoriously hard-to-predict award, will be announced on Thursday. Here are the winners from the past decade. Some were surprise candidates while others were expected but all – in their own unique styles – caught the attention of the Nobel committee.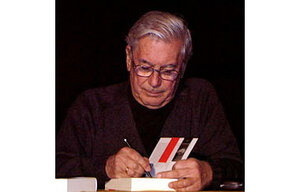 By Manuel González Olaechea y Franco (own work) [CC-BY-3.0 (www.creativecommons.org/licenses/by/3.0)], via Wikimedia Commons
1.

Mario Vargas Llosa

The Peruvian writer, politician, journalist, essayist, and one-time Peruvian presidential candidate was the 2010 Nobel recipient. He has written such novels as "The War of the End of the World" and "Captain Pantoja and the Special Service." According to the Nobel committee, he was chosen to honor "his trenchant images of the individual's resistance, revolt, and defeat."