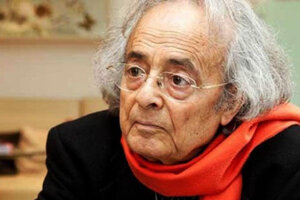 2.

Adonis: odds are 6/1

His real name is Ali Ahmad Said Asbar and this 81-year-old Syrian poet, though currently No. 2 on Ladbroke's list, is the most favored contender. As the story goes, the poet recited a poem for the then-president of Syria when he was just 17, and has been writing ever since. When publications rejected submissions under his name, he chose a pseudonym he still uses today: Adonis. Described as dense and playful, Adonis's writing has been compared to that of Walt Whitman, "if only Whitman had spent more time in airports," and his poetry seems to fuse, effortlessly, East and West. He is, writes The New York Times, "as apt to cite Jim Morrison as the Sufi mystics."

He's a favorite for several reasons. For starters, he is a poet, a medium thought to be "underrepresented among Nobelists lately," according to a recent New York Times article. Secondly, he writes in Arabic, an underrepresented language (only one other Nobel winner wrote in Arabic, Naguib Mahfouz). Perhaps most important, his poetry and his outspokenness – the Huffington Post calls him "an equal-opportunity critic, encouraging revolution while lamenting the death of Arabic culture" – coincide perfectly with the turmoil of the Arab Spring.

The Nobel committee loves socially minded altruists and Adonis, who was once imprisoned for his membership in the Syrian Social Nationalist Party and is now a vocal observer of the Arab Spring, may be their man.