5 best books by 2012 presidential hopefuls
"You're not a real candidate, Pinocchio, if you haven't written your own book," Mark Halperin, political director of ABC News, once said. Indeed, these days the one – perhaps only – condition all serious presidential candidates seem to satisfy is publishing their own book, whether it's a rags-to-riches memoir, a political manifesto, or a motivational manual. While plenty of political lit is ghost-written pabulum, some titles pop with personality, authenticity, or just plain good writing. Here's our pick of the five best books by 2012 presidential hopefuls.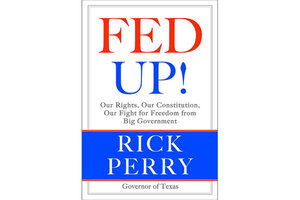 1.

Rick Perry's "Fed Up! Our Fight to Save America from Washington" is the boldest

"Fed Up!" is Perry's 240-page manifesto on turning America around, Perry-style. (Ironically, the book's forward is written by Newt Gingrich, now Perry's rival in the GOP nominating race.)

In a column titled "Rick Perry's book is good. Really," The Washington Post's Ezra Klein writes, "Campaign books are terrible. I know that... Any campaign book, that is, except Rick Perry's 'Fed Up.' This is not a boring book. More to the point, it's not even a book about Rick Perry. It's a book about Rick Perry's ideas. And his big idea is that most everything the federal government does is unconstitutional."

He thinks Congress and the federal government should butt out of regulating the environment. And regulating guns. And protecting civil rights. And Medicare and Medicaid. And minimum wage laws. And labor laws. And education. States, Perry thinks, are simply more capable at solving problems, than the federal government. "Most problems get better solutions when they're solved at the local level," he writes.

Brash? Maybe. But it's big, bold, and – to borrow a word that was once associated with our current commander-in-chief – audacious.