4 excellent adventure books for young readers
With its whopping 2.5 million-copy print run, "Inheritance" is very likely the fantasy book in which your favorite teen has his or her nose buried this month. The fourth and final installment of Christopher Paolini's books about Eragon, the orphaned farm boy-turned-dragon rider, offers all the action and answers its fans have waited eight years for.
But "Inheritance" is also darker than its predecessors, and its graphic violence includes the prolonged torture of a young woman. Knopf recommends it for ages "12 and up," and I wouldn't hand it to anybody younger.
For those seeking alternatives, this fall offers four excellent adventure tales for young readers. There are museums, pirates, gods, rodents, runaways, and lots and lots salt water.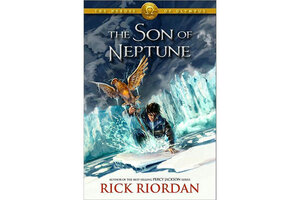 1.

"The Son of Neptune," by Rick Riordan

In Rick Riordan's The Son of Neptune, Percy Jackson is back. After months in a goddess-induced coma, he's wound up at Camp Jupiter, the "other" camp for demigods in "The Son of Neptune" – with his sword, Riptide, but without his memory. Mother Nature, Gaea, is in a very bad mood, and the monsters Percy kills just won't stay dead.

The first book in Riordan's new "The Heroes of Olympus" series, "The Lost Hero," was a letdown for the 9-year-old "Lightning Thief" fan in my life. Happily, "The Son of Neptune" marks a welcome return to form. The humor and cleverness from the first series are back, as is Riordan's trademark blending of myth and modern life. The book's high point is a showdown with the Amazons, whose secret headquarters are based at a certain online behemoth in Seattle. And Percy's companions, Hazel and Frank, are incredibly appealing.