'Pride and Prejudice' through the years
With P. D. James' new book 'Death Comes to Pemberley,' Jane Austen's novel 'Pride and Prejudice' is getting another makeover. In James's story, it's six years after the end of the original book, and Elizabeth and Darcy's idyllic life is turned upside down when Lizzy's sister Lydia shows up claiming that her husband, George Wickham, has been murdered. But James' novel is hardly the first to revive the classic. Since its publication in 1813, Austen's most famous novel has had enduring popularity, inspiring everything from movie adaptations to a satire that adds zombies. Here are a few of the most memorable 'P&P' incarnations over the years.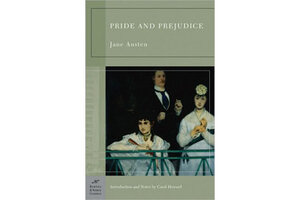 1.

Austen's original novel

It all started in 1813. "Pride and Prejudice" tells the story of Elizabeth Bennet, who with her sister Jane meets the friendly Charles Bingley and the standoffish Fitzwilliam (yes, there's a reason he's always referred to as just "Mr.") Darcy when they come to stay nearby. Social satire and a memorable love story ensue. The novel starts with one of the most famous opening lines ever: "It is a truth universally acknowledged, that a single man in possession of a good fortune must be in want of a wife."