5 best books about John Lennon
John Lennon, killed by a gunman 31 years ago this week, was the subject for many biographers before and after his death. Here are a few of the best books about the Beatle we will never forget.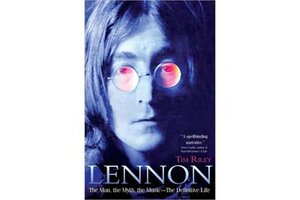 1.

'Lennon: The Man, The Myth, The Music,' by Tim Riley

This recent biography by Tim Riley explores Lennon from his childhood beginnings to his tragic end and draws on previously unseen or under-utilized materials, including the memoir of Lennon's father Alf, new records from the city of Liverpool, and fresh interviews with the Beatle's friends and enemies. "I think [Lennon] was an enigma to himself," Riley said in an interview with Monitor Books editor Marjorie Kehe. "He was very mercurical, felt differently on different days ... as reflected through his writing, he is really deeply fascinating and quite unknowable."