5 best mysteries of the holiday season
I've often thought that Ebenezer Scrooge's famous indictment of holiday well-wishers would make a terrific set-up for a mystery. "If I could work my will," said Scrooge indignantly, "Every idiot who goes about with 'Merry Christmas' on his lips should be boiled with his own pudding, and buried with a stake of holly through his heart."
Failing that, here are five 2011 mysteries for the suspense lover on your Christmas list. A legend returns, officially; murder pays a visit to Austen; an Old Bailey hack reminds us how much we miss his creator; a Scottish writer returns to old haunts with a new hero; and a freelance journalist stumbles onto murder and Noel Coward impersonators in rural Michigan.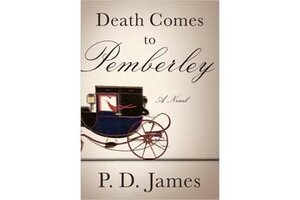 1.

'Death Comes to Pemberley,' by P.D. James

Anyone who can pen a pastiche of "Pride and Prejudice" without once beginning a sentence with "It is a truth universally acknowledged ..." is clearly a master of restraint and decorum.

P.D. James opens Death Comes to Pemberley with an apology to Jane Austen "for involving her beloved Elizabeth in the trauma of a murder investigation, especially as in the final chapter of 'Mansfield Park' Miss Austen made her views plain: 'Let other pens dwell on guilt and misery. I quit such odious subjects as soon as I can..." The Baroness James's pen is, of course, an expert on both subjects. (In the interests of full disclosure, it's worth noting that the only way I could have been more favorably disposed toward this book would be if James had dunked it in chocolate or sent Colin Firth to read it to me.)

After a deliciously acidic summing up of the events in "Pride and Prejudice" from the viewpoint of the good folk of Meryton, the book opens in October of 1803, where Elizabeth, having produced the required heir and a spare, is preparing for the annual harvest ball. Jane and Mr. Bingley are arriving for a visit and Elizabeth's sister-in-law Georgiana has captured the attention of two suitors.

Alas, the shades of Pemberley are soon polluted by the presence of Elizabeth's youngest sister, Lydia, who arrives in hysterics, babbling about murder. When searching the woods, Darcy discovers her wastrel husband, George Wickham, bending over the corpse of good-natured Capt. Denny and uttering what sounds very much like a confession.

Darcy, a local magistrate, once again finds himself in the weary position of having to extricate his family from a scandal involving Wickham, but this time, he's not convinced Wickham is the guilty party.

"Lydia's husband seems to have distinguished himself by this latest exploit in managing to combine entertainment for the masses with the maximum of embarrassment for his family," Mr. Bennet dryly notes. "I cannot believe him guilty of murder. His misdemeanours, however inconvenient for his victims, have not, as far as I know, involved violence either to himself or others."

After battling zombies, plain old murder must seem blasé to Mr. and Mrs. Darcy. But fans of both James and Austen should enjoy "Death Comes to Pemberley," which combines James's excellent research and plotting abilities with a fan's microscopic knowledge of Austen. Readers will find references to both "Emma" and "Persuasion" tucked into the plot, as well as well-turned satiric sentences that could have come from Austen's own pen. Take a letter sent by Mr. Collins, who could not bring himself to condole with Elizabeth in person on this occasion: "He began by stating that he could find no words to express his shock and abhorrence, and then proceeded to find a great number, few of them appropriate and none of them helpful."