10 book-to-movie adaptations coming this holiday season
From the ultra-violent 'The Girl with the Dragon Tattoo' to 'Hugo,' Martin Scorsese's love letter to silent films, the movie listings this holiday season are full of films that came from the printed page. Here are some that are already out as well as a few that are yet to be released.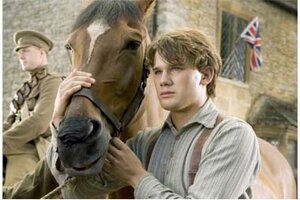 1.

'War Horse'

Michael Morpurgo's children's book, which is narrated by Joey, a horse who is taken to fight in World War I, was first published in Britain in 1982. Earlier this year, a Broadway production of the story – which used massive puppets to depict the horses – won five Tony Awards, including best play. Now "War Horse" is also a movie directed by Steven Spielberg, with actor Jeremy Irvine playing Albert, Joey's young owner who joins up as a soldier in order to find Joey and bring him home.