6 books you should resolve to read in 2012
It's common practice, as the year draws to a close, to reflect on the past twelve months – to think back on what you did, how you spent your time, and who you spent it with. My years, more than anything, are shaped by books so when I look back I'm thinking about what I read. The same goes for thinking about the year to come: When I make my New Year's resolutions, it's pretty much just a long list of books that I want to get my hands on. And so, in looking forward to 2012, here are some things that I've already gotten my hands on; it would be wise of you to do the same. If what I'm reading (and loving) is any indication, 2012 is going to be a strange and wonderful year.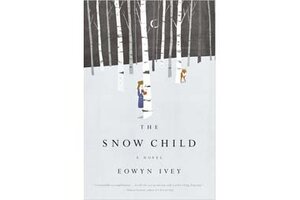 1.

'The Snow Child,' by Eowyn Ivey

An enchanting (couldn't resist) retelling of a classic Russian fairy tale, except this time it's set in Alaska, circa 1920. Mabel and Jack are newcomers to Alaska and are being pulled apart by desolation and loneliness. Unable to conceive, the couple remains childless and the strain of maintaining their farm has pushed them to the edge of their capacity. In a rare moment of playfulness, the couple builds a child out of snow. Shortly thereafter, a child called Faina appears – ethereal, bewitching, and mysterious. Ivey creates a world out of emptiness and populates it in completely unexpected ways.