David Foster Wallace's 10 favorite books
Before his suicide in 2008, David Foster Wallace authored three novels, including 'Infinite Jest' which Time magazine named among the All-Time 100 Greatest Novels (1923-2006). Wallace is praised for his short story collections and philosophical essays, such as 'This is Water,' given as a memorable commencement address at the Kenyon College graduation in 2005. What did Wallace himself like to read? Prior to his death, he contributed a list of his 10 favorite books to J. Peder Zane's compilation "The Top Ten: Writer's Pick Their Favorite Books." His choices – ranging from spiritual to spine-tingling – might surprise you.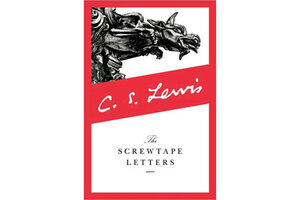 1.

'The Screwtape Letters,' by C.S. Lewis

Lewis's allegory portrays temptation as a sly tribe of demons whose sole function is to lead their "patients" astray. The plot unfolds through letters from an experienced demon, Screwtape, to a novice demon, Wormwood, advising Wormwood on the art of discouraging a human. The product of these humorous letters is an insightful commentary on the internal warfare of the human mind.